I know I already posted the trailer for
Guardians of the Galaxy
but this is explaining why I liked the trailer so much and my thoughts on it. I understand not everyone likes it, but this is my opinion.
I'm using timing from this link:
http://youtu.be/pTZ2Tp9yXyM
:16
Chris Pratt in a LONG COAT! I have a thing for long coats. Weakness would probably be a better description from Han Solo to Spike to Scully to Norrington to Balthazar to Crepsley. Almost anyone who wears one is inevitably hot to me. Like I hated the wasted potential of Penelope Cruz in
Pirates of the Caribbean: On Stranger Tides
but damn, did she look good in that coat!
:26
COMEDY! That's what I love most in my space films and the lack of it has meant that I can't watch a lot of space stuff, like
The Fifth Element
.
:43
Yes, you could compare it with a wrist vortex manipulator or any of a million things, but my immediate thought was that it looked so similar to the Centipede devices that they used on Mike Petersen and others in
Agents of SHIELD
. Go synergy, go!
:46
John C. Reilly! Because I love him and I watch all of his films eventually, but comedic roles are more likely to earn a cinema trip.
1:00
ROCKET! Seriously, this was the whole point to a Guardians of the Galaxy movie; to have Rocket Raccoon kicking ass. Sometimes, I think about how Tolkien wished the trees would be able to fight back against deforestation and I wish animals could talk...
Rocket's origin story is awesome, too. It's all about corporate greed and purposely infantilizing a population in order to make more money off of them.
Yep, we do have a sort of Ent in Groot but he's so much more than that. For one thing, he can change size which hopefully, they'll address in the film.
Rocket also has a girlfriend named Lylla who's an otter. She's also awesome.
1:38
80s Walkman bearing 80s music! 80s music always makes me feel warm and comforted.
1:51
Because Rocket and Groot are awesome and they look real. I still remember when they would have Pixar shorts on PBS and we were just amazed. Now, you can do literally anything with computer animation.
1:52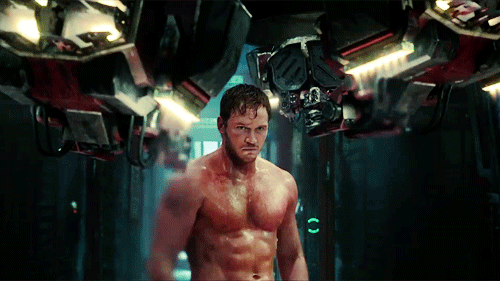 Yeah.
1:58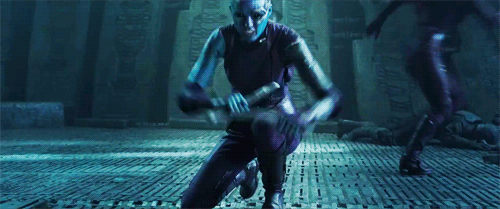 I could watch an hour that was solely Karen Gillan being badass and not regret my life decisions.